Using a template to create a Database
Access 2000 comes with a number of database templates. A template is an empty database framework built for a specific purpose. A database template contains empty tables as well as defined queries, forms, and reports to store and analyze data for a particular purpose (your expenses, or the data you need in order to bill your clients). When you create a database with an Access template, you first choose the template that you will use from the New Database dialog box.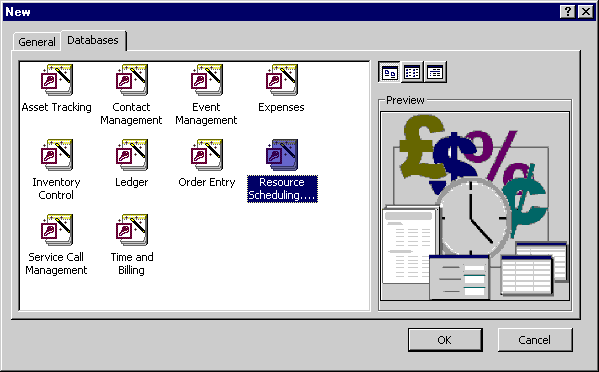 These are the steps to create a database from a template:
Open Access. Choose the Access Database Wizards, Pages, and Projects option on the initial dialog box and click OK.

If Access is already open, click the Open button on the toolbar, press Ctrl-N or choose File>>New from the menu. Click the Databases tab on the New dialog box.
Choose the database template you want from the Databases tab of the New dialog box and click OK.
You see the File New Database dialog box. Give the database a name (and you might also want to specify a folder) and click Create. Access will automatically add the .mdb extension to the file name you provide.
Access creates a database and starts the wizard for the template you chose. Work through the template choosing tables, fields, and styles from the choices provided.
The next lesson provides you with an overview of the steps for creating and using an Access database.