| | |
| --- | --- |
| Lesson 7 | Using parameters with cursors |
| Objective | Identify correct syntax for using parameters with cursors. |
Correct Syntax for Using Parameters with Cursors in Oracle PL/SQL
Identify the correct syntax for using parameters with cursors in Oracle PL/SQL

Oracle PL/SQL provides robust functionality to work with cursors, including the ability to pass parameters to them. Here is the authoritative syntax for using parameters with cursors in Oracle PL/SQL:
Declare the cursor: This is the first step, where you define the cursor and specify the parameters that it will accept. The syntax is as follows:


CURSOR cursor_name [(parameter_name datatype[, parameter_name datatype ...])] IS select_statement;



Here, 'cursor_name' is the name of your cursor, 'parameter_name' is the name of a parameter, 'datatype' is the data type of the parameter, and 'select_statement' is the SELECT statement that the cursor will execute.
Open the cursor: Once you have declared the cursor, you can open it using its parameters. Here is the syntax for that:


OPEN cursor_name [(argument[, argument ...])];



Here, 'cursor_name' is the name of your cursor, and 'argument' is a value that you are passing as a parameter. To give you a concrete example, consider the following PL/SQL block:

DECLARE 
   CURSOR emp_cursor (p_department_id DEPARTMENTS.DEPARTMENT_ID%TYPE) IS 
      SELECT first_name, last_name 
      FROM employees 
      WHERE department_id = p_department_id;

   v_department_id DEPARTMENTS.DEPARTMENT_ID%TYPE := 30;
   v_first_name EMPLOYEES.FIRST_NAME%TYPE;
   v_last_name EMPLOYEES.LAST_NAME%TYPE;
BEGIN
   OPEN emp_cursor (v_department_id);

   LOOP
      FETCH emp_cursor INTO v_first_name, v_last_name;

      EXIT WHEN emp_cursor%NOTFOUND;

      DBMS_OUTPUT.PUT_LINE (v_first_name || ' ' || v_last_name);
   END LOOP;

   CLOSE emp_cursor;
END;


In this PL/SQL block, 'emp_cursor' is a cursor that accepts one parameter 'p_department_id'. It's used to fetch the first and last names of employees from the 'employees' table where 'department_id' matches the value of 'p_department_id'. The 'OPEN' statement is used to open the cursor and pass the value of 'v_department_id' as an argument.
Remember, when you're finished with a cursor, you should always close it to free up the memory and resources that it's using.
Identify correct Syntax for PL/SQL Cursor Parameters
You can specify parameters for cursors in a similar way that you define them for a procedure.
This allows you to pass parameters to a cursor when you open the cursor. Look at the following Slideshow to see how the syntax works and learn how to open a cursor that uses parameters.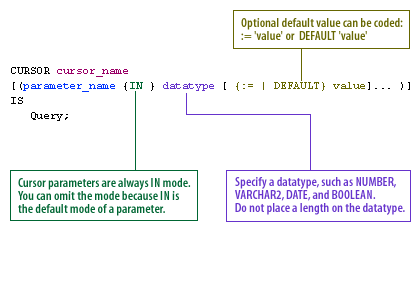 ---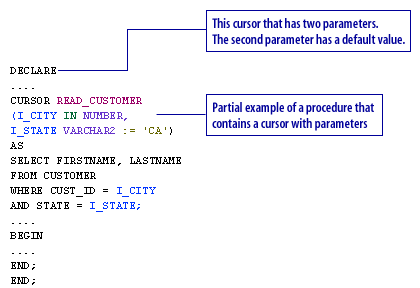 ---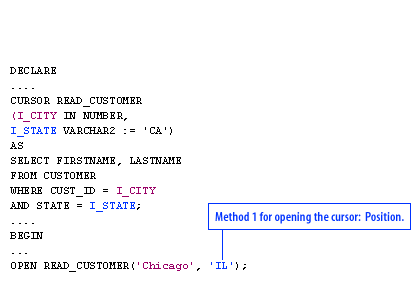 ---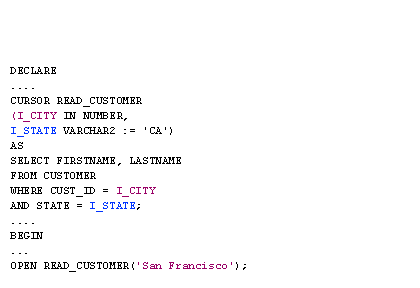 ---
Cursors With Parameters
The key reason for using parameters in a cursor is to help you write clear code. It is obvious to the casual reader of your code that you are passing variables X, Y, and Z to the cursor if the OPEN command contains those three variables as parameters. The next lesson concludes this module.
Procedures/Functions Cursors Parameters - Quiz