| | |
| --- | --- |
| Lesson 2 | Oracle instance |
| Objective | Review Oracle instance structures. |
Oracle Instance Structures
The diagram below illustrates the processes and memory structures that make up an Oracle instance. When you move your mouse over a box, you will see a brief description of what each particular process does.
The square boxes represent processes, while the circle in the center represents an area of memory that they all share. Boxes drawn in bold are processes that are mandatory, and that are always running when a database is open. The other processes are optional, and whether or not they will exist depends on the specific mix of Oracle features that you are using.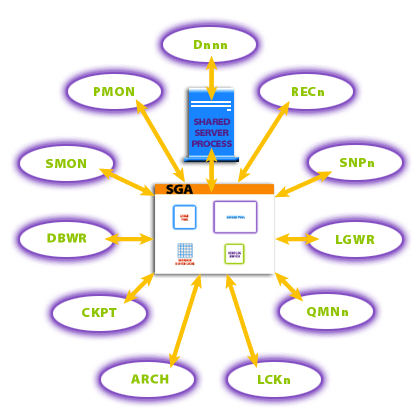 There are a few physical files that control the instance. The first is the instance initialization file, better know as the INIT.ORA file. This file contains a variety of parameters that control how the instance is created. The second is an alternate optional instance configuration file, better know as CONFIG.ORA. We will discuss these files in a later module. As you can see, the Oracle instance is made up of several components. In the next several lessons, we'll review the memory structures and the processes as they relate to backup and recovery. The next lesson explores Oracle instance memory structures.