| | |
| --- | --- |
| Lesson 2 | Oracle database configuration file |
| Objective | What is the init.ora file. |
Oracle documentation
Most Oracle documentation and those of us who write about Oracle make a very common assumption about the init.ora file. We assume that when we refer to init.ora it is understood that this file may be named something else. I performed a default installation of Oracle8 on my NT platform. I took the default instance name of orc1 during the install. Oracle installed a file called initseed.ora on my disk and created a file called initorc1.ora that is specific to the instance orc1. Both files are located in my c:\oracel8\database subdirectory. For convenience, we will refer to init.ora as a general name rather than an instance specific name.
The init.ora file contains initialization information about your database and instance. There are over 130 parameters that can be set in your init.ora file by using Oracle Instance Manager, Oracle Server Manager, or any text editor. All modifications specified in the init.ora file will take effect the next time you start up your instance. Most parameters are set with default values by the instance and do not concern our backup and recovery plan, but there are some parameters that you may want to set manually.
When you consider the number of database options (Java, objects, parallel server, and so on) and potential platforms (Unix, NT, Netware, LINUX, MVS, and so on) it is easy to understand why there are more than 130 parameters. This module introduces certain parameters that relate to backup and recovery. In the wrap up lesson, a sidebar will accumulate the parameters that were covered.
While it isn't the only place to find information about your database, the init.ora file should be one of the first places you look to determine how your database is set up. View the slide show below to see parameter information using three different tools, init.ora, Server manager, and the Oracle Enterprise Manager tools.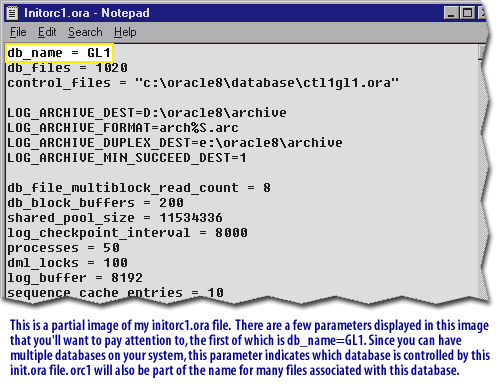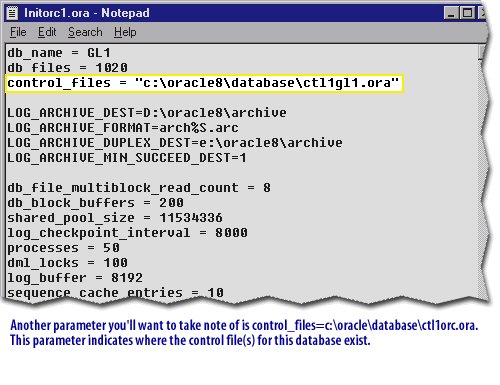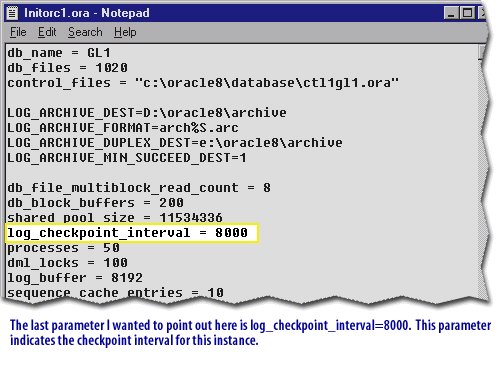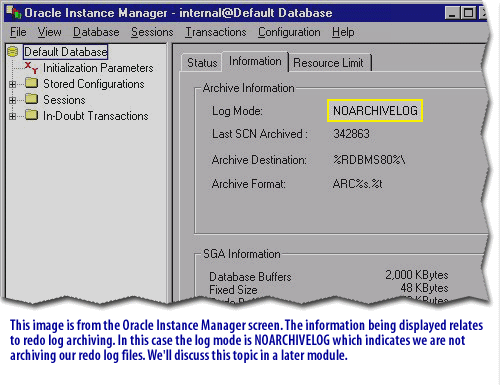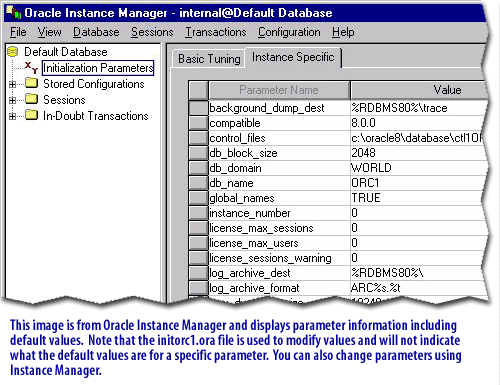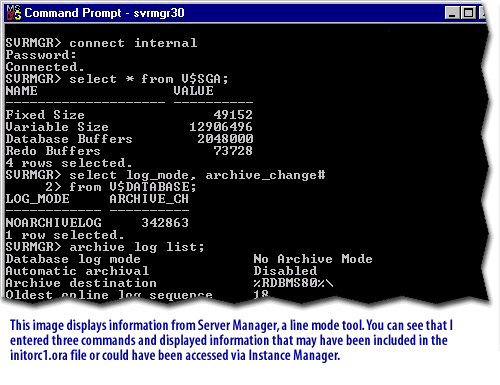 Parameter Settings Example
These tools are the three primary ways of viewing parameters. Notice that the information is presented a little differently with each tool. The next lesson is about the database control file.