One of the security options supported with the OAS option of Network Services is the Remote Authentication Dial-In User Service, or
RADIUS
[1]
protocol. This protocol is popular in Web applications that require user identification with passwords. It is also being used with a variety of security devices that check fingerprints, retina scans, or that use a smart card for security access. Oracle can be configured with the Advanced Security option to implement authentication using RADIUS. Oracle Net Services uses RADIUS as an intermediate layer between the user and the database server.
The following Tooltip shows how the Oracle database, Network Services, and RADIUS fit together.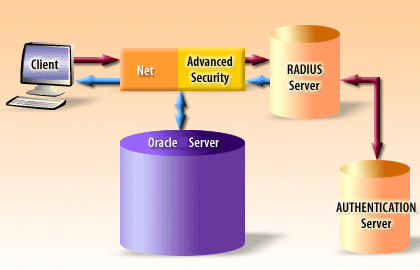 Radius Adaptor and Oracle
RADIUS is a widely accepted protocol and is used to secure Internet applications, directory access services, and firewalls.
The next lesson covers configuration of the RADIUS adapter for Network Services.
[1]
RADIUS:
Acronym for Remote Authentication Dial-In User Service, a client-server security protocol that is used primarily with the Internet.