Lesson 1
Overview Database Administrator Features
This module looks at features that deal mostly with
installing,
configuring, and
managing storage
and users in your Oracle database. Oracle has put a lot of work into improving the tools you have to work with when creating and managing an Oracle database.
You will find new variations on SQL commands that give you better control over the database. You will see better integration between related tools, making it easier to understand how they fit together. There is much more consistency in the "look and feel" of all the GUI-based tools as Oracle strives to place all its tools into Web-capable formats. Compared to previous versions of Oracle, Oracle has better integration with emerging Web standards for security, directory control and structure, and presentation of multimedia formats. It is easier to deliver large database objects, such as video, audio, and graphic files, to the Web from within the database. This module serves as an overview of all the features of Oracle that will be covered during this course. It is a good place to start if you want a quick review of new Oracle features.
Module Objectives
By the end of this module, you will be able to:
Identify features for installation, configuration, and migration
Describe features for tablespace and resource management
Describe features for parallel databases
Describe features and enhancements for security management
Identify new cloud-related features
About Enterprise Manager Cloud Control 13c
Oracle Enterprise Manager is Oracle's integrated enterprise (IT) information technology management product line, which provides the industry's only complete, integrated, and business-driven enterprise cloud management solution.
Oracle Enterprise Manager
creates business value for IT by leveraging the built-in management capabilities of the Oracle stack for traditional and cloud environments, enabling customers to achieve unprecedented efficiency gains while dramatically increasing service levels. The key capabilities of Enterprise Manager include:
A complete cloud lifecycle management solution enabling you to quickly set up, manage, and support enterprise clouds and traditional Oracle IT environments from applications to disk
Maximum return on IT management investment through the best solutions for intelligent management of the Oracle stack and engineered systems with real-time integration of Oracle's knowledge base with each customer environment
Best service levels for traditional and cloud applications through business-driven application management

Figure 2.1 illustrates how Enterprise Manager Cloud Control offers a solution that enables you to monitor and manage the complete Oracle IT infrastructure from a single console.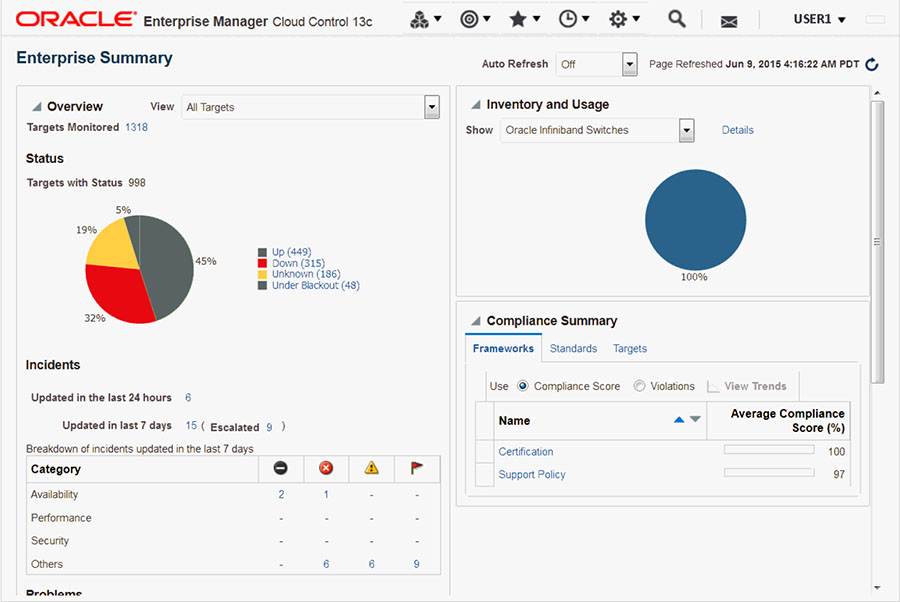 There are tables, ToolTips, and Slideshows throughout the module to illustrate the concepts presented.
The next lesson starts where a database administrator, begins: installation, configuration, and deployment.